CBISS Am/Can CH Redlion's Short Fuse WD
OFA5300G, Cerf2361/04-126, PRA-A, DM Carrier
Sire: AM/CAN CH*Redlion's Come Back Hank** WDQ, CWCI OFA Cerf
Dam: Redlion's Duty Free O'Taraglen, CWC OFA Cerf

Fee: $1100 - Frozen Semen Only - two straws included (semen stored in Los Angeles, CA, with Dana Bleifer, available for shipping) A deposit of $200 is due before the semen is shipped and balance of the stud fee when the puppy(s) are 3 days old and before any paperwork is signed. One puppy constitutes a litter and there is no rebreeding with frozen semen. If bitch is not pregnant, no additional fee is charge other than the $200 deposit.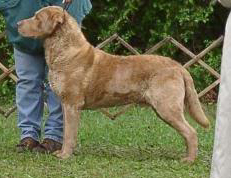 "Musch" is a well-built stocky male, 80 pounds and a joy to own. He's very friendly, and a good-natured companion. He won Best in Sweeps in Los Angeles in 1995 at the American Chesapeake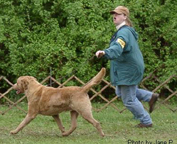 Club National Show. His father Hank won Winners Dog at the same National that weekend!
Musch is 9 years old in these photos! His two litter sisters, Detonator & Explosion, both won Group Firsts in All-breed Shows.
What an awesome moving dog at 10 years old.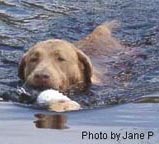 ACCOMPLISHMENTS - in limited showing
Nov 94 Toronto, Canada - 1ST in the Puppy Sporting Group
Nov 94 Toronto Chesapeake Bay Rtvr Club of Can National Show - Best in Sweepstakes and Rsv Winners Dog
Dec 94 Best In Sweepstakes Philadelphia KC, Am Chesapeake Club Supported Show
May 95 Best In Sweepstakes - Los Angeles, Ca. - ACC National Speicalty Show
May 95 WD, Best of Winners 5PTS - Kalamazoo, MI - ACC Supported show
2003 – Am Chesapeake Club National Specialty in MI - JAM at 10 years old
Musch's daughter won BOS at the ACC National Show in Gilroy, CA 10/2/10




AM/Can Ch* Redlion's Come Back Scupper CGC
"Musch" is a littermate to Am/Can Ch* Redlion's Detonator