Chesapeake Bay Retriever
Can CH Redlion's Come Back Barret, TD, JH, DS

Prelim hip xrays clear, OFA EYE1277/2019-15, all clear for PRA, DM, EIC, Long Coat, and EDSF, Cardiac clear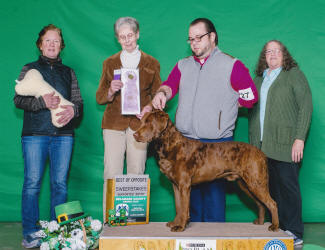 Sire: Am/Can CH* Redlion's Come Back Hank**c WDQ CWCI
Dam: Redlion's Bee Notorious (Bee's dam is AM GCH, Can CH Redlion's Notorious Wren ***c QA2 MH WDQ CGC)
Breeder: Jane Pappler and Darren Sausser Owners: Jane Pappler and Leigh Ann Barnes
View and Print Barret's Pedigree

Fee: $1600 A deposit of $300 is due at time of breeding and balance of the stud fee when the puppy(s) are 7 days old and before any paperwork is signed. Two puppies constitutes a litter. If bitch is not pregnant, no additional fee is charged..
"Barret" is an exciting young boy with lots of natural prey drive for retrieving and will run Junior Hunter tests in May, 2019. He's also started on his basic handling for blind retrieves and he will go hunting in the fall. He is a very versatile boy and the perfect family dog on a small horse farm with his co-owner and trainer Leighann Barnes. Barret has been in just a few U.S. and Canada shows and done very well. In March he received his Tracking Dog Title. He has a very exciting future and we are very proud of this boy. He has a tremendously successful pedigree.


Accomplishments

US Shows
5-2-18 Trenton KC 4-6 mo Baby Puppy Group 2
7-13-18 Ohio American Chesapeake Club National Show BOS Puppy Sweepstakes
3-16-19 Delaware Co KC, York, PA Am Chesapeake Club Supported Show - BOS Puppy Sweepstakes and Reserve Winners Dog
5-5-19 NJ Trenton KC Am Chesapeake Club Supported Show - Reserve Winners Dog
Canada Shows
11-30-18 Caledon KC Winners Dog
12-1-18 CBR Club of Canada National Specialty Winners Dog, Best of Winners and Best of Opposite in Puppy Sweepstakes
12-2-18 Caledon KC Winners Dog and Best of Winners
12-2-18 Limited Sporting Show Winners Dog and Best of Winners NEW Canadian Champion 1 yr old
Tracking Trials
3-17-19 Burlington County Kennel Club passed the TD New Tracking Dog Title
Hunt Tests
4-19-19 First State RC 1st leg JH
4-20-19 First State RC 2nd leg JH
5-4-19 Pinelands RC 3rd leg JH
5-11-19 Delbay RC 4th leg New Junior Hunter Title
Dock Diving
7-19-19 NJ two legs toward Diving Senior title
7-21-19 NJ three legs toward Diving Senior title New Dock Diving Senior Title
US Field Trials
11-7-19 ACC National Field Trial Specialty, Texas Derby 4th (only 9 dogs ran so no Derby points given)