Redlion Kennels
Licensed Private-Boarding Kennel
Hours by Appointment Only
We do Private Boarding with only a few dogs taken at a time. Your dog is kenneled with my own personal dogs so they must be good tempered. Problem dogs or dogs that have bitten before will not be accepted. I prefer only spayed and neutered dogs. Un-neutered males and bitches in season are additional fees. Hours for drop-off and pickup are flexible but must be setup in advance and adhered to. Boarding and viewing is by appointment only. Payment is cash only.

Indoor/Outdoor Runs

Heated Kennel

Total Property Fenced

Dogs are taken out of the runs 2-3 times a day for a walk to be aired and only off-lead if they are obedient.
Problem or un-trained dogs will incur additional fees. All dogs are given treats when applicable.




Strict Health Requirements

Dogs must be current for all shots and applications listed below. Proof from Vet required and must be emailed or faxed over in advance of boarding. Please plan ahead. It's not fair to your dog's health or my dogs to make each other sick and no fun for the owners. Dogs must have the Frontline or Advantix applied at least 2 weeks prior to boarding to be effective for protection. Ticks are very prevalent where the dogs exercise and they may be exposed to Lymes disease.

Rabies - given within 1-3 years, depending on the age of the dog

DLHP/Parvo - given yearly and within one year of boarding date (*** Exception: Older dogs that have had yearly shots up through age 3 years need only have the DLHP/Parvo every 3 years or have a tider reading from the Vet. All other shots are required as listed)

Corona - given as puppies. All Vets do not give Corona in their standard puppy shot package, so you will have to ask for it.
(This is suggested but not a requirement for boarding)

Kennel Cough - Bordatella) given yearly and within one year of boarding date and at least 2 weeks before scheduled boarding

Heartworm Preventative, given monthly, all year round. I suggest using Heartguard Plus as this also kills other worms the dog may have picked up in public areas.

Flea and Tick Protection: Dog must be on "Frontline" Top Spot or Advantix at least 2 weeks prior to boarding. Apply monthly, use all year round.

We do not have fleas here and do not want you to bring any in with you or take them home with you.

Lyme vaccine is optional but suggested. Ticks are very prevalent in the kennel exercise areas.

*** Any dogs arriving with fleas, sickly dogs or dogs in poor condition will NOT be accepted for boarding. Make sure your dog is bathed and "flea free" before arriving and on Frontline or Advantix at least two weeks prior to boarding. You must show proof of purchase of the Flea coverage.

*** Exception for Shots: Older dogs that have had yearly shots up through age 3 years need only have the DLHP/Parvo every 3 years or have a tider reading from the Vet. All other shots are required as listed.

Print out the boarding agreement, sign and return by email, or regular mail along with the health records of your dog.


Jane Pappler – 7 Easton Way , Southampton , NJ 08088
609 859-3570-H - Phone calls accepted: 10a -8p


See New Directions for driving to the Kennel


Photos of our Kennel Runs inside and out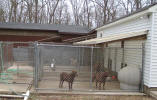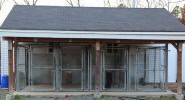 View of Runs on the Outside in the Back section and the covered runs in the Front section

View of Runs on the inside with insulated waterproof sleeping beds, heated in winter and swinging doors for going outside at their leisure.
The swinging doors are great and block any draft from blowing in and out.

Boarding Prices
Rates:
$22 per day, per dog
$40 per day for two dogs in one run (they must get along)
Discounts for extended stays over 30 days
$8 per day additional for females in season and non-altered males over 1 yr of age.
Un-neutered males are not always accepted, depending on space. Many are too aggressive with other male dogs in the kennel.
Play Time: $8 per day additional / per dog except for 2 dogs boarding in a run together
is just $8 total.
Dogs will have 30 minutes free time total per day to play and run, off lead if they are obedient, usually done twice a day with 15 minutes each time. They can either be by themselves or with other dogs. All playtime is at owner's risk for injury. I have 3 fenced areas (several acres each) for exercise and play-time, under trees and shaded.
Payment is based on 24 hours from time of drop-off - Late Pickup Fee applies as listed below.
1 dog - 2-4 hours is $10, 4-6 hr is $15, over 6 hours is a full day rate $22.
2 dogs - 2-4 hours is $20, 4-6 hr is $25, over 6 hours is a full day rate $40.
All payment is Cash-Only, no checks or credit cards
Bathing: $25 - no grooming Nail Trimming or Ear Cleaning: $8 each
Administering Medication with pills - $1 per dose
Training and Socializing - $25 per hour. This is for dogs lacking in obedience and/or socializing skills where additional time, instruction, or correction is needed during the boarding stay. Price and time spent training varies depending on the dog and his needs.
Pickup Service: I will pickup dogs or meet people part way.
Pickup Fee is $35 per hour for driving time (includes gas). Any tolls for bridges or turnpikes are additional.
Trips to Philadelphia airport are $75 plus $4 toll and Newark airport is $150 plus turnpike tolls.
Dog Boarding Agreement
I am boarding my dog(s) at Redlion Kennel. My dog will possibly be housed and/or out to exercise with other dogs. If any illness, injury or death should occur while dog is boarded here, it would be at my expense. I would not hold the other dogs, their owners, Jane Pappler and/or her family, or Redlion Kennel at fault. I relinquish any rights for a lawsuit against the same. Boarded dogs may be traveling with Jane and would be crated while in the vehicle. If Vet care were needed, the dog would be taken to Cherry Hill Animal Hospital 856-429-4394, Countryside Hospital 609 953-3502 or an Emergency Clinic. Any and all payment for Vet fees is the responsibility of the owner and must be paid before dog is released from Redlion Kennel. All payment for boarding is by cash only. I agree that my dog has had the listed vaccinations, applications and meets the requirements asked for by Redlion Kennels in advance of boarding, including being on Frontline or Advantix and having no fleas. If any of these items are not followed, I know my dog could be refused boarding upon arrival.
Owner: Phone: Cell:
Address:

Signature of Owner or Agent: Email Address:
Dogs Call Name: Breed: Age: Spayed or Neutered (circle one)
Does your dog get along with other dogs? Does your dog come when called if off lead?
List any health, behavioral or personality problems: Has your dog ever bitten anyone or been in a dog-fight?